The Most Successful Mountaineers
---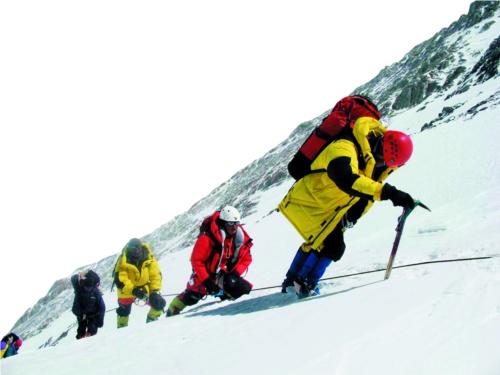 On July 12th,2007, the key mountaineers are heading to the summit of Mt. Gashurbrum I.
Tsering Dorje: I Dream of Climbing Mt. Qomolangma Carrying the Olympic Torch
Tsering Dorje, the oldest of the Tibetan professional mountaineers, has successfully reached a total of fourteen of the world's highest mountain summits. His companions jokingly refer to him as "Aku" (meaning "uncle" in Tibetan). However, acting as an uncle, he has to shoulder the responsibilities of team leader to take care of the others.
He said: "This is the last summit for us. I was so stressed and always thought about how we could work as team to reach the summit and then returned safely."
Since reaching the mountain range, he has been getting a toothache. The mountaineers settled down at Camp Two for five nights, even though the wind blew harshly and really interrupted their sleep during the night. Even worse, their food would soon run out. On the last day before they climbed the summit, Camp Three had even run out of salt. In such circumstance, the team still kept moving on unremittingly in order to successfully reach the mountain summit.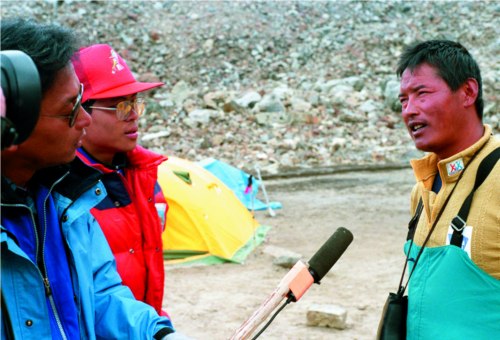 On September 13th in 1992, a Japanese Television reporter interviewed Tsering Dorje, the first mountaineer to reach the summit of Mt. Namjabarwa. Photo by Dorje Dradul
"It is not an easy job to reach the summit! Though Penpa Tashi is an experienced team member with great physical strength, he was worried about his sickness. He did not say any words before we set out, but prepared his luggage and himself not to return. When I hugged him at the summit, we both burst out with tears." Tsering Dorje said.
"Jiji is a female mountaineer. Although her physical strength and technical capacity hardly compares with a male mountaineer, she is very enthusiastic. It was really hard for her, in particular while her husband was suffering misfortune. Having a little daughter, she has made a hard decision anyway. She wanted to say something about it, but she did not. Everybody knew very well that we came here to climb the mountain because we all represented our nation and our people." Tsering Dorje said.
In 1979, Tsering Dorje began his career as a professional mountaineer. In 1988, he joined the Chinese team to participate in the three-country (China, Japan, and Nepal) joint expedition to climb Mt. Qomolangma(Everest). By successfully reaching the north summit and also crossing over, he broke the world record by staying 99 minutes at the summit of Mt. Qomolangma. Having been chosen as the team leader of Tibetan Mountaineers, he became the leading force of Chinese mountaineering expedition for almost 20 years.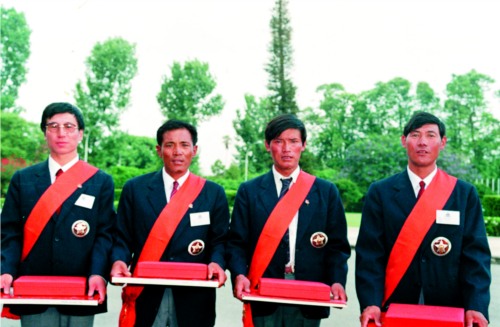 On May 27th, 1988, in Kathmadu, King Birendara of Nepal confers four mountaineers from China who successfully reached Mt. Qomolangma with the First Medal. The second in the right is Tsering Dorje. Photo by Zhu Shixiang.
Speaking of the his experience throughout his career, he said in self-deprecation: "At the very beginning, I was actually not a formal team member of the national mountaineers team, but rather a casual one; because of that, I had no object or vision, and only wanted to earn money."
"Later on, a team aiming to challenge the 14 mountain summits was organized, and I was chosen as team leader. Since then, my career has taken off. Of course it was stressful, in particular, when we climbed mountains abroad and we were not familiar with the mountain paths. Everybody strove to be first but we had to consider safety. The team was divided into two groups with matching abilities. Penpa Tashi and Renna took responsibility to build the path, and I had to go with them to choose the most proper path to climb." Tsering Dorje said.
Having embarked on this career 14 years, Tsering Dorje always likes to say: "My hair has already turned white." An old young guy over 30 at the very beginning of his mountaineering career is now 50 years old. It was only today he finally realized his dream. However, his feeling was complicated and he said: "Though the team has reached its goal, we have lost one of our colleagues. I often dream about him. From my point of view, losing one colleague meant that we were not really successful." Tsering Dorje said sadly.
Taking the future into consideration, Tsering Dorje told us: "At present, Pencha Tashi has almost recovered and Luo Dro's health grows better and better. We really wish we could join the Olympic activities and hold the torch on the summit of Mt. Qomolangma. As Tibetan mountaineers, we might not be outstanding in other sports, but we are good at mountaineering. This is the first time our nation will hold the Olympic Games and we must do our best."
Resume of Tsering Dorje
Born in August of 1960 in Pulagang Village of Khartse Town of Namling County in Tibet Autonomous Region (TAR), Tsering Dorje is the team leader of "China's Tibetan mountaineering expedition to challenge the 14 mountain summits at 8000 metres above sea level". He has also been awarded as a national level athlete and membership of the fifth, sixth, seventh, and eighth CPPRCC of TAR.
At the end of 1979, he participated in a training program and joined the mountaineering expedition to Changtse Summit, which was 7543 metres above sea level, organized by China and Japan in May of 1986. On May 5th, 1988, he successfully reached to the north summit of Mt. Qomolangma and crossed over. On this climb, he made a world record in terms of longest staying on the summit for 99 minutes, which enabled him to be honored with a sport award and recognized as a national excellence athlete. In 1991, he was invited as consultant by a Belgium mountaineering team to Mt. Shishabangma summit, and successfully led the mountaineers to reach the summit that was 8012 metres above sea level. On October 30 of 1992, he jointed the mountaineering team organized in cooperation with China and Japan, to reach the summit of Mt. Namjagbarwa (7782 metres above sea level) and won sports award. As the team leader from 1993, he respectively reached 14 mountain summits that all were above 8000 metres above sea level and well known as the world's highest mountains. In 1995, he was chosen as the "National Model Worker", the "National Excellent Worker" in 2000, and the "The Outstanding Worker in the National Sports System".
Penpa Tashi: I would like to face all challenges, if I could reach the mountain summit
As a humorous guy, when Penpa Tashi heard the author would interview him, he jokingly said: "My facial muscles have become loose and I can hardly speak." While talking, he wore a very serious facial expression: "Since I suffered misfortune in 2005 and tried to recover my consciousness and my memory, I have dreamed of accomplishing my last climbing task of the 14 mountain summits. To realize this target, I would like to face all challenges."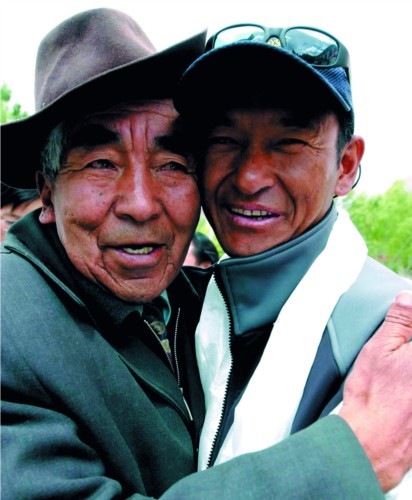 On May 5th, 2004, Gonpo (left), the famous Tibetan mountaineer, is hugging and saying goodbye to Penpa Tashi. Photo by Sonam Lozang
He said: "During my treatment in Beijing, I lied down on the bed feeling sad and worried that my muscles were loose. Touching my legs, it seemed that they were filled with water. I became depressed. Hence, I tried hard to escape from the sight of doctors and did some exercises."
"In order to achieve a quick recovery, I had borne a lot of distress. I had to take acupuncture treatment for my facial palsy every day with over 20 to 30 needles simultaneously in my face. This treatment lasted over six months. The medication caused me serious pain and was hard to bear. Finally, my resistance indeed impressed my doctors." Penpa Tashi said.
Having been cared for by his relatives and also support from mountaineers all over China, Penpa Tashi's health situation was beginning to improve. Nevertheless, he was badly stressed because he was afraid of losing his physical strength. He said: "I was really under pressure. In particular, Renna, my best friend and also my partner, did not visit me during my sickness??My son comforted me and said: "Don't worry, Daddy, if you could not go, I am the right person to help you to challenge the last mountain summit."
Penpa Tashi said: "I am really happy to have this chance to challenge the last summit. Frankly speaking, I am not sure of myself because my brain is not fully active and my eyes were also not good enough. My health situation was at risk if the whether conditions changed. Once on the way, I suffered epilepsy again. I pretended to be relaxed in the camp but indeed, that was not my real situation. When I saw a 40 degree incline, I would be actually terrified whereas before I had never been afraid."
Arriving at the camp, Penpa kept on taking his medicine, including Tibetan traditional medicine and western medicine. Even if he took medicine, his left rib and inside of his left leg frequently convulsed which lasted for 40 seconds, as if to shake off his mobile phone. However, even with such pain, he did not mention anything to the others but rather bore it by himself.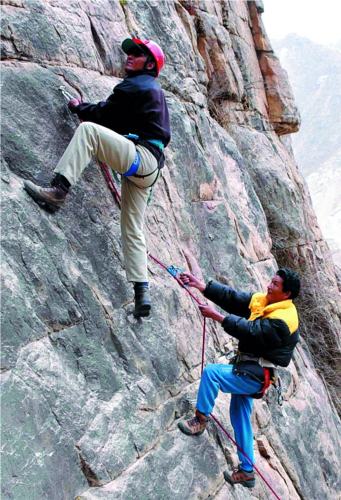 Penpa Tashi is training for cliff climbing. Photo by Sonam Lozang
Penpa detailed a secret to us that nobody in the camp had ever known. He said: "Before we set out to mountains, I packed up all my clothes including underwear. I placed my headlight on the clothes and I left a cushion and shoes together inside of the tent. I also placed a locked bag in which there was money for my wife and children in case I suffered misfortune."
Being equipped with 20 years of experience in mountaineering, plus physical fitness, technical and personal support from friends?? Penpa Tashi successfully reached the top of the 14th mountain summit. But he was not satisfied and said: "it is sad that Renna was not here. He was a very good person, but has passed away. Though I was successful, I am not satisfied at all. If he were here, we would be talking, singing and dancing together. Unfortunately, he could only achieve the climbing of 13 mountain summits. We all helped him to accomplish his final object in spirit. But without him, it is still sad."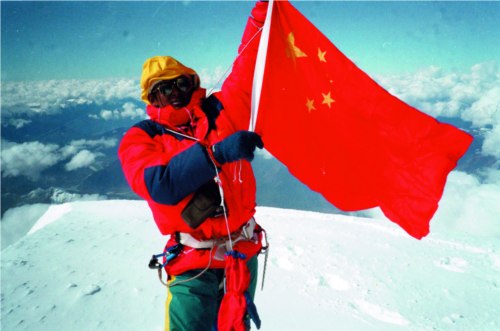 At nine past 12 o'clock on October 30th, 1992, the China Joint Friendship mountaineering expedition successfully reached Mt.Namjabarwa. Penpa Tashi is raising the national flag. Photo by Gyapo
The Resume of Penpa Tashi
In May of 1965, Penpa Tashi was born in Gangxi Village of Lhastse County. He was the leading force of "China's Tibetan mountaineering expedition for challenging 14 mountain summits which were 8000 metres above sea level". He is also a national athlete.
In 1984, he joined a mountaineering training program. On April 28th of 1986, he successfully reached Mt. Nodjingangsang, 7206 metres above sea level. In May of 1988, he reached the south part of Mt. Qomolangma by participating in the three nations mountaineering program (China, Japan and Nepal), and he was awarded as successful national athlete. In October of 1992 in the partnership with China and Japan, he got to the summit of Mt. Namjagbarwa and was awarded. In 1993, he was chosen as one of the key team members for the 14-mountain summits program. He respectively stood on top of the world's 14 highest mountain summits?? including Mt. Qomolangma on May 27, 1999. He set out from a camp at 8300 metres above sea level. By only taking four hours and 47 minutes, he broke the record to be the fastest person to reach the top. Then, by staying at the top for 138 minutes, he made another new record for China. In 2002, he was chosen as one of the "Advanced Workers", the "Ten Excellent Youth" of TAR, and the nominee as the "National Ten Excellent Youth"; in 2005, he was again chosen as the "National Advanced Worker" and "Excellent Party Member" of TAR.
Luodro: the success of the mountaineering expedition is owing to the motherland and its people
After returning to the camp, the first word from Luodro to the reporter was that: "Our organization handed to us the task of climbing the 14 highest mountain summits. Now we have successfully fulfilled our mission. We believe that we should firstly give thanks to the party and also to all people of the nation because they trained us for the task; in addition, we should thank the Bureau of Sports of TAR, the Association of Mountaineering, and also our family members; and my lastly thanks should also go to the friends from the news media, colleagues, and others."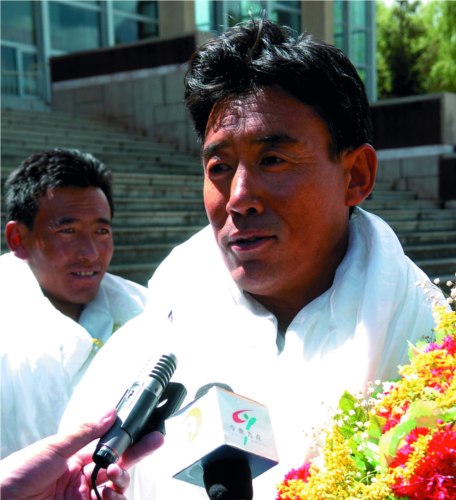 At 20 past one o??clock on June 4th of 2006, Luodro successfully reached the summit of Mt. Annapuma on the Nepalese side at 8091 metres above sea level. He is interviewed by reporters. Photo by Sonam Lozang
He said: "When the decision was made last year about challenging this mountain summit, I was worried because I was afraid of my age. I might be too old. Thereupon, I kept on doing exercise in order to be fit. I tried to equip myself both spiritually and physically. I believed that I could do it because I had visited this mountain 12 years ago. Unfortunately, last time we failed in the middle part. So I was a little bit worried this time."
"Having arrived at the camp, I found the weather was better than last year. Though it snowed for quite a long time, I still believed that if Camp Two and Camp Three were built, we only needed 4-5 days if there was good weather." Luodro said.
Luodro said that he did not recognize the difficulty before he set out. "The mountain route is long, and there is a cliff slope which is hard to climb. I really worried about Penpa Tashi, but he was always successful, and Jiji did a good job as well. This is the key of our success. If Penpa did not get to the top, our team would have never accomplished our object." Luodro stressed.
Again, he said: "We got more team members this time, including male and female, elder and younger. We had team leaders for all groups, and everybody followed instructions. We worked as a team with cooperation and unity. This is important for mountaineering to be successful."
While climbing, Luodro undertook another task??to photograph the climbing procedure. This task really did challenge him physically. Though Luodro claimed he was physically fit, he sometimes could not give full attention to both video recording and photography. In order to achieve his mission, he had to either move forward or backward around the team members.
In 1993, Luodro failed to reach Mt. Annapurna summit; he was so disappointed, but finally got a chance to make up for it in 2006. Last year, he went to the Nepal side to successfully get to the summit of Mt. Annapurna. His success made it easier for the other three key members to reach the 14 mountain summits.
Acting exactly like the other two team members, he showed his happiness when they achieved success: "We have contributed 14 years hard work for this final target. Today, we have finally fulfilled our dream, but we have lost our best friend. Having struggled for so many years, he left us just when we almost got there. This is what we really regret."

Resume of Luodro
In July of 1963, Luodro was born in Doma Village of Lhatse County. He was the key member of "China's Tibetan mountaineering expedition for challenging 14 mountain summits which are 8000 metres above sea level", and he was cited as a national excellent athlete.
In 1984, he participated in the training program for mountaineering. On May 11th, 1986, he reached the summit of Mt.Changtse. In May of 1988, he reached the 8300-metre height of Mt. Qomolangma together with the mountaineers from Japan and Nepal, and was cited as a national excellent athlete. On May 9, 1990, he joined the mountaineering team consisting of athletes from China, the United States and Russia to get to Mt. Qomolangma and reached the summit. By then, he was awarded as the honorary athlete and international standard athlete. In 1993, as the key member of "China's Tibetan mountaineering expedition for challenging 14 mountain summits which are 8000 metres above sea level" he successfully achieved the target of 14 mountain summits, and in 2007, he was chosen as the "Excellent Party Member" in the sport system of TAR.
Jiji: I fulfilled my husband's last wish
While challenging the 14 mountain summits, Jiji was the only female athlete. In order to participate in the program she prepared herself for two years.
She said: "After his (Renna's) accident, the leaders of the TAR's Sports Bureau came to comfort me. I raised the topic of permission to replace my husband's position in order to accomplish his wish to challenge the 14th mountain summit. Meanwhile, I wished I could visit the place where my husband passed away."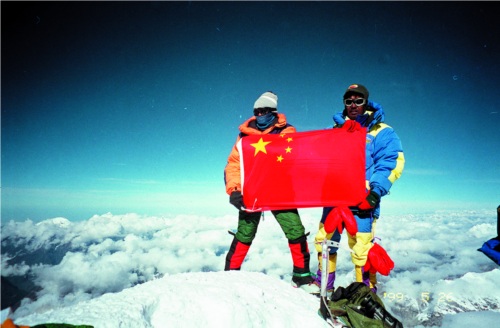 In 1999, Renna and Jiji, the first couple of mountaineers from China to reach the summit of Mt. Qomolangma.
In autumn of last year, Jiji was enrolled in Beijing Sports University. Although the decision on whether or not she could join the team was yet to be made, she had already silently trained herself in order to prepare for this mission. She ran 10 laps around the sports ground of the university and developed her leg strength every day.
Before she went abroad, she sent her daughter Lhamo Yangjen to her elder sister to be looked after. Her daughter was her biggest concern as she planned for the journey.
She said: "I have made several calls to my daughter about her study in school. I could not believe her score for the entrance examination to middle school would be even Number Two in Lhasa. Now she has been successfully enrolled by Nantong Middle School in Jiangshu Province. She is super."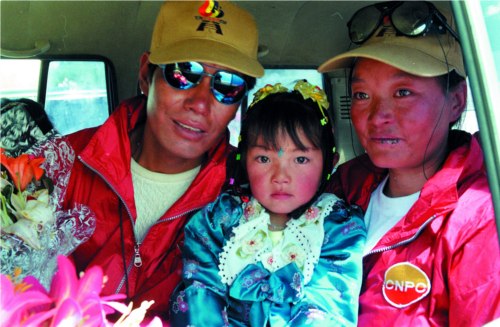 Renna, Jiji and their daughter before they set off for Mt. Qomolangma in 1999.
Meanwhile, Jiji worried about the mountain route. Her heart was not content. She could hardly think about the difficulties she foresaw. She was also afraid her physical strength would not match the male members.
"Team members informed us they found many crevices when they transferred goods to the first sight. I was terrified. So were the male members. Having experienced such a situation, Tsering Dorje comforted and also informed me that we would use ropes to tie us together. His words relieved my stress." Jiji said.
Resting on strength and perseverance, Jiji and the other nine team members successfully had finally reached to the 14th world's highest mountain summit.
Speaking of the moment when the mountaineers stood on the mountain summit, Jiji, the original strong lady, could not help a tear falling down and said: "When we got the top, I was bursting into tears. If my husband were just injured two years ago rather than died, it would surely be him on the top of the mountain today. I was thinking of him so much I had no interest in taking photos."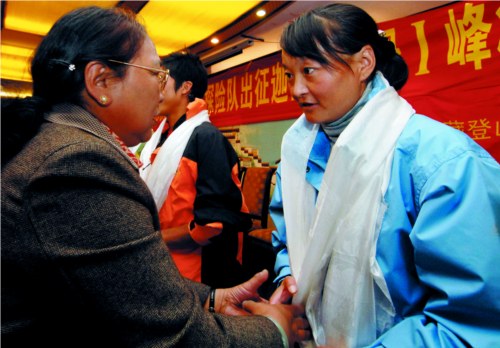 On May 14th, 2007, the Government of TAR say farewell to the ten mountaineers who are going to challenge Mt.Gashuerbrum I from the Pakistan side. Tsering Drokar, the vice Chairman of the government is presenting Hada to Jiji (right).
Pausing for a while, Jiji said: "He did not come, but I replaced him. I brought his wish and also his remains. But I did not place it at the top because it was covered in snow and I was afraid that the newcomers would step on them. Therefore, I fixed it to a big rock by wrapping it with several Hadas and plastic bags."
On the way back to the mountain foot, Jiji and her male team members almost fell down from the mountain because there was no rope to protect them. She said: "That part of the path was very dangerous. One mistake would be fatal. The risk was higher than on Mt. Qomolangma. My whole mind was completely filled with the image of my daughter. Therefore, I had to always remind myself to be careful. Safety had to be my primary concern."