Rtse Drugdgon Monastery
---

--a Typical Bon Religion Monastery

Text & Photo by Cheng Dan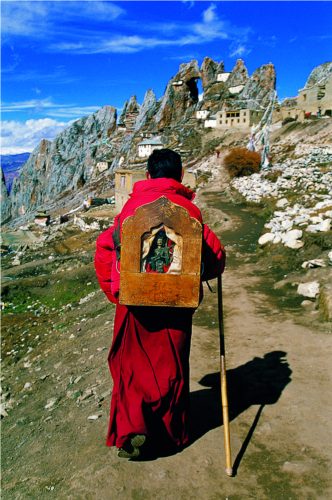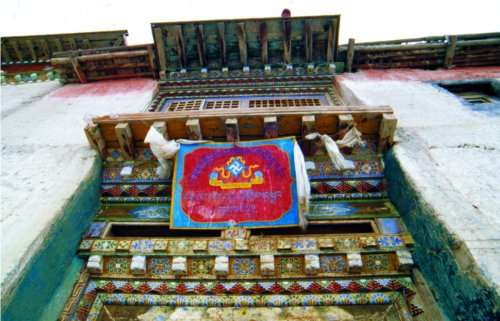 The logo of the Rtse Drugdgon Monastery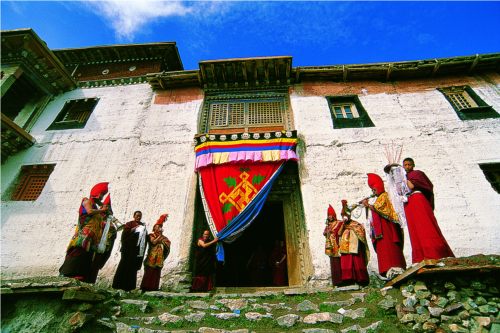 Main chamber of Rtse Drugdgon Monastery.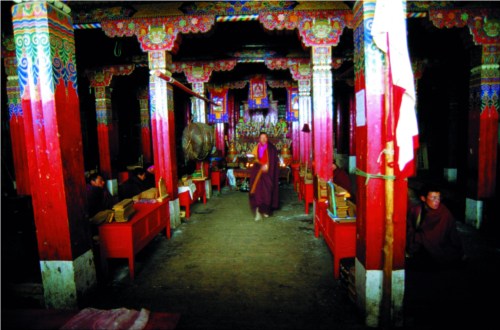 Inside the main chamber of the monastery.
My First Visit to Rtse Drugdgon Monastery
I first heard about Bon religion through a friend ten years ago. Having heard from him how people refer to Bon religion as an "evil religion" and sometimes a "black religion", I became quite terrified. In fact, Bon religion was actually the original Tibetan religion.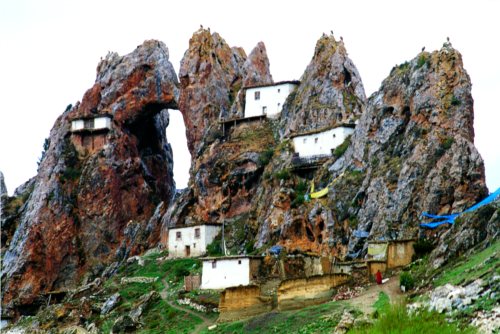 Monks dwellings
Piously I prayed: "If one day I visit Tibet, please do not let me encounter Bon religion!"
Ten years later, I overcame various kinds of difficulties, like getting lost and encountering a landslide, to complete my journey to the master monastery of Bon religion in East of the Tibet Autonomous Region. It was the Rtse Drugdgon Monastery located on a mountain summit 4800 metres above sea level in Tengchen County of Chamdu Prefecture.
This time I prayed: "I don't mind a rough trip so long as I reach Mt. Rtse Drugdgon."
Before setting off, one thing impressed me and even shocked me: occasionally, when wandering around Lhasa, I encountered several Tibetan friends and we decided to have a meal together. When I mentioned the words "Bon religion", they shouted at me: "Aya! That is an evil religion...!" Their facial expressions showed the same fear and ignorance I had encountered ten years before, reminding me of the rumors about Bon religion I heard then. Clearly, such rumors had even spread amongst ethnic Tibetans themselves.
I was profoundly depressed and sad about the apparent disappearance of this culture.
Nowadays this ancient, indigenous religion has lasted for several thousand years but now has been overwhelmed by the spread of Tibetan Buddhism. This historic culture has gradually become blurred and even been distorted in the collective mind since the introduction of Tibetan Buddhism into Tibetan inhabited areas.
Bon religion is the oldest aboriginal religion in Tibetan-inhabited areas. During the period of Shang Shung in the early Tubo period, Bon religion was the exclusive orthodox religion and acted as the official religion to manage state affairs. It was an important component of traditional Tibetan culture, which supported the development of early Tibetan society. However, during the initial period of Buddhism's introduction into Tibetan inhabited areas, apart from political support, Tibetan Buddhism did, in fact, adopt some aspects of Bon religion. This enabled Tibetan Buddhism to finally take root in Tibetan society and form the unique features that differentiated it from India Buddhism and also that of the central plains in China.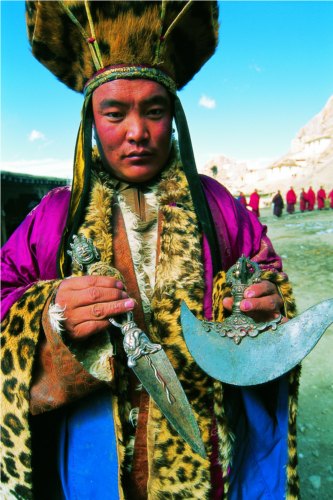 Khenpo Gasong Tenzin is holding religious instruments.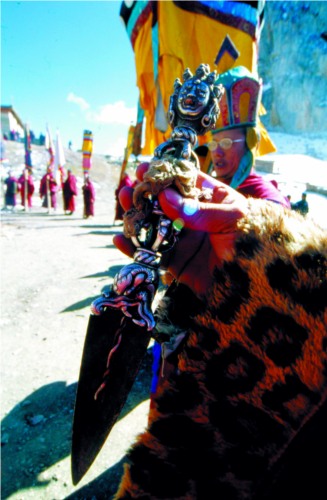 Religious instruments.
Bon religion, an outstanding indigenous religion in history, is greatly influenced by other external religions so that it is almost impossible to trace it back to its roots. Therefore, the existence of Rtse Drugdgon Monastery is of great significance and meaning. This is not only a comprehensive monastery crucial for education in Bon religion, but it has also preserved great sutras, and instruments concerned with Bon religious rituals??which is are of incredible value. This is why I undertook such adventures to go there.
My first visit was in June 2002. I was intoxicated with the unique splendor of the landscape in this area. This was a profoundly impressive monastery compared with other monasteries I had visited over 20 days.

Return to Rtse Drugdgon Monastery
One day in November 2004, at 7 o'clock, it was still dark when I set off from Tengchen County. Light snow fell, reminding me that winter still gripped the land and my path to Rtse Drugdgon Monastery.
I remembered that my first visit was by taking the No. 317 national road. However, we had misfortunes on this visit. Our car cruised around an area of 15 kilometres in diameter for about two hours! This byway was so confusing that we could not find a way out. However, the worst part was that Tibetans living in the area did not understand Chinese so we were helpless.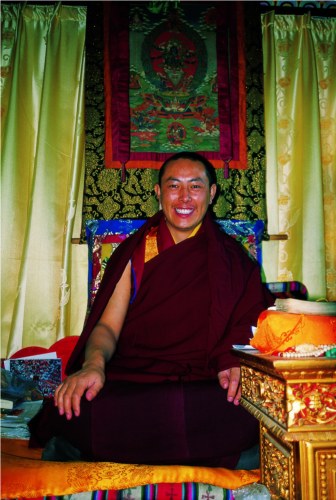 Bstan Vdzin Vod Zer, the abbot of Rtse Drugdgon Monastery.
Deeply depressed, I suddenly reminded myself that Bstan Vdzin Vod Zer Rinpoche (The reincarnation of Buddha) had told me: "Rtse Drugdgon Monastery is not for everyone to reach unless they have some kind of magical power..."
Although quite a few Tibetans have reached Rtse Drugdgon Monastery, it is too remote for most of them. The monastery is hidden at the foot of Mt. Nyanchen Thanglha and stands out against the steep mountain. A simple road was available, but weather conditions were the main issue. Whenever it is raining, vehicles, including those of the locals, can't get through. To reach Rtse Drugdgon Monastery has become the hardest travel feat in TAR.
For three hours we cruised between the two steep mountains with no idea of the true direction. We felt extremely disappointed and prepared to give up. All of a sudden, an unpaved narrow road just wide enough for a single vehicle appeared, on our left side a deep valley and a river to the right. Finally, we were heading straight to Mt. Rtse Drugdgon.
When we arrived at 4800 metres above sea level, a steep and awesome mountain summits stood before us. It was a shock to me to see such a gorgeous view, in particular the unique landscapes of the mountains! There are no mountains in TAR that could compare.
The main chamber of Rtse Drugdgon Monastery was built right under the summit. Meditation huts were randomly scattered in the rocky areas to our left that inspired a feeling of mystery. Looking about, we found a vulture was waiting motionless on the mountain peak, perfectly integrated with the mountain ranges.
Two women carrying baskets of yak dung were gradually moving into my camera's viewfinder. I was told that they were believers from Samdo Village on the opposite side of the mountain, and that they were bringing the fuel to the monastery. Often it took them four hours to walk from the village. Before the road was built, the monastery's supplies had to be delivered by either people or yaks.
To some extent, I understood why such a remote and mountainous place was selected to be the location of Rtse Drugdgon Monastery. Sha Yul Xiayu Phuntsok Tsering, the editor-in-chief of Tibetan Buddhism and former director of the Tibetan Academy of Social Sciences, said: "No matter whether it be Tibetan Buddhism or Bon Religion, to choose a monastery's location one must follow a certain procedure, and geomancy (divination by geographic features) was always taken into consideration. Obviously, Mt. Rtse Drugdgon is the most favorable location for meditation because it is such a beautiful place..."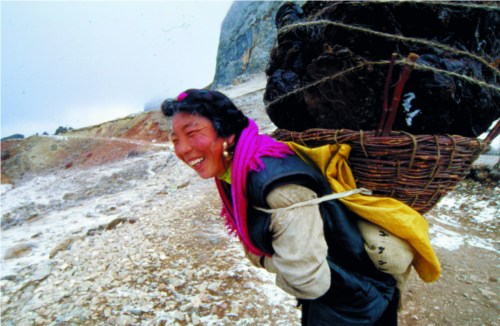 Believers provide yak dung for Rtse Drugdgon Monastery after taking a four-hour journey.
Pouring down the front of the mountain, a ray of sunlight abruptly pierced the heavy cloud and sprayed down upon the earth. But looking straight ahead, the range of snow-capped Mts. Nyanchen Thanglha seemed suspended before me as if I were hanging between the horizon and the clouds. My heart was swept away...what a magic environment! It was irresistible.
Mts. Rtse Drugdgon is composed of six mountains. Khenpo Gasong Tenzin told me that the six mountain summits stood for six symbols: the head of a lion, a big roc (mythical bird of prey), an elder lama teaching a little monk, a knife, a triangle, and the sun and the moon.
Maybe it was a repayment for my studious efforts to get here or maybe it was my geomantic connection with Mts. Rtse Drugdgon, whatever, I was so lucky to participate in a religious convention to pray for the prevention of catastrophe, which usually took place in September of the Tibetan calendar. Being lucky, I witnessed a wonderful Bon religion ceremony. This was an age-old religious dance in Tibetan inhabited areas. As a matter of fact, the religious dance of Tibetan Buddhism has evolved from this ancient dance. The dance seeks to "protect the safety and peace of the nation, and make the people content". In addition, it refers to prayers for favorable weather and to protect Tibetans from catastrophe.
It is worth mentioning the rumor that a naked religious dance is performed at Rtse Drugdgon Monastery. In fact, this is not true. When it is the Chicken Year in the Tibetan calendar, a grand religious convention accompanied by various religion activities is always held here. The religious dance is unlike other religious dances taking place in Tibetan inhabited area. This convention only happens once every 12 years.
I was so lucky to have this opportunity; even though I had tried three times before, this journey really exhausted me.

Rise and Decline of Bon Religion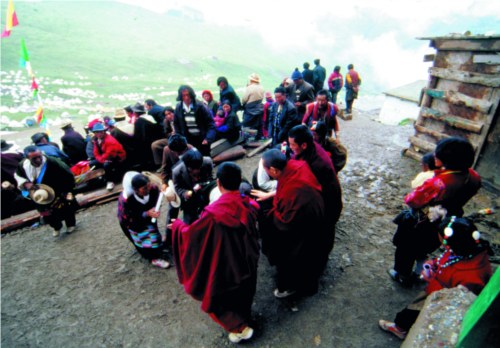 Belivers and monks
During the period of Shang Shung, Bon religion was the state religion to manage the nation's affairs. Mt. Rtse Drugdgon was the "entrance of lower approach", which accords with Gang Rinpoche, who referred to it as the "the origin of the outreach". In the golden age, Bon religion spread extensively in Tibetan inhabited areas. Until the Tubo era, Bon religion had always been the mainstream and formed a complete set of theoretical systems, tenets and canonic sutras. Amongst the monasteries of Bon religion, Rtse Drugdgon Monastery is the oldest, built during the period of the second King Mutri Tsenpo (over 2000 years ago).
During the period of the fifth King Trisong Detsen, Bon religion was under deadly attack. In pursuit of the crown, Trisong Detsen enforced severe measures to control Bon religion in order to make Tibetan Buddhism most popular in Tibetan areas. He adopted some lighter and more rational measures, such as debates, to sway opinion towards Buddhism, as transferred from India, as an orthodox religion in place of Bon religion??which was the loser in the debate. Thereafter, the rulers of Tubo Kingdom expelled the clergy of Bon religion to Ngari. They collected all Bon sutras and classics and then threw them into water or buried them under the Samye Monastery. The rulers instructed the public that everybody could only follow Buddhism and definitely not Bon religion. Hence, Bon religion could hardly recover after this setback and had to retreat to remote areas in order to survive.
Xiayu Phuntsok Tseing has said: "The two religions themselves actually have no intention to conflict with each other, but were being used by politics. Nowadays, Buddhism has adopted the tenets of Bon religion, as did Bon religion of Buddhism. Both religions were mutually developed."
So for the sake of survival, the two religions not only fought each other but also were mutually influenced. For instance, Buddhism took advantage of the tenets of Bon religion, but Bon religion also pursued the development of its original tenets and canons. As the original religion in the Qinghai-Tibet Plateau, Bon religion survived due to its stubborn life force. Totally there are 86 Bon-related monasteries with 93 reincarnations of Buddha and over 200 thousand believers. Around the world, many scholars are embarking on Bon religious studies.
At present, Bon religion monasteries survive at Shigatse, Nagqu, Chamdo, and Ngari in TAR, and Gyarong in Sichuan Province. However, Bstan Vdzin Vod Zer, the reincarnation of Buddha in Rtse Drugdgon Monastery commented as following:
"Religious rites are actually not significant and have no meaning; they could only undermine the truth and make chaos. Currently, some people misunderstand Bon religion because they did not read the sutras of Bon religion but rather copy others' information. I believe it is important to have the culturally genuine ideology of Bon religion."

The Last Contribution--Sky Burial Funeral
The platform of a sky burial funeral was situated at the roadside where people had to pass by. Close to the monastery and looking at both sides of the road, we discovered whole hill was covered with discarded clothes, scattered everywhere. Such a sight shocked us. This is the custom of Tibetans because the pilgrims wish their deceased relatives' clothes will bring them good fortune and blessing.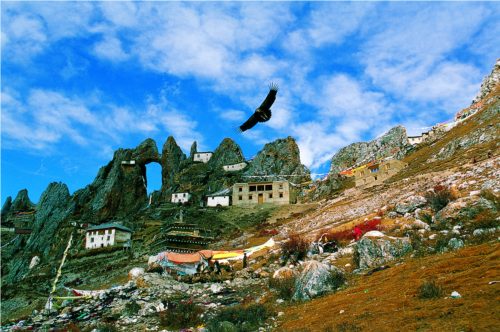 The Rtse Drugdgon Monastery was built under the summit of Mt.Rtse Drugdgon.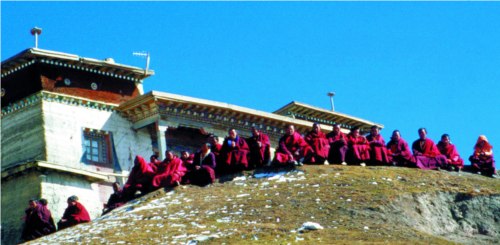 The clergy who provides services for sky burial rituals.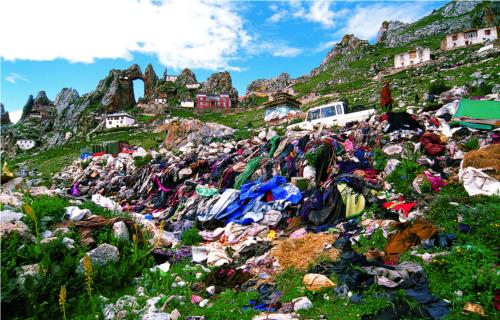 Discarded clothes surrounding the sky burial platform.
On the day of visiting the sky burial platform, I encountered the sky burial funeral of a Tibetan. With the permission of the reincarnation and also led by Gasong lama, I was standing at a distance to watch the funeral.
On the hill where they could see the platform, a group of monks were reciting sutras aiming to release the soul from purgatory. Their red cassocks were shining between the blue sky and yellow earth, looking particularly auspicious. In the minds of Tibetans, they are the bridges for the souls to transfer information between Hell and the world. That is why sky burial platforms are always built close to monasteries. Suddenly, conches were sounding ahead, a grave and remote sound attracting the vultures which either perched on the mountain peaks or cruised in the sky. They dove down to the platform from all directions.
Tibetans believe that all small birds like to eat fresh meat, but vultures only eat naturally deceased animals. Often, without any available flesh, vultures will eat grass. Therefore, the vulture is recognized as a purified bird, and people are willing to contribute their bodies to vultures after death, thus winning merits and virtues.
Just at this moment, a little monk took a wooden box to lightly hit the forehead of the dead person??this was the key difference in the sky burial at Rtse Drugdgon Monastery in comparison with the others.
"There is a history about this." Bstan Vdzin Vod Zer explained: "A deity's protector predicted that my 37th reincarnation Sangye Lingpa would encounter a Buddha statue when he visited the hinterland. It was said that taking this Buddha back to the monastery would relieve the suffering of all people. The prediction finally became reality. When Sangye Lingpa lama went to Gyarong, he met a statue of the Bodhisattva with a thousand hands. When he returned to Rtse Drugdgon Monastery, he asked the others to place the statue in the chamber of deity protectors and appointed a special person to look after it; he also stipulated that every deceased person must be blessed by the use of this statue."
"In reality, sky burial is a nice way to dispose of the corpse, and it is meaningful??contributing the corpse to the vultures will win boundless benefits...people, pilgrims in particular, witness the procedure and pray for the dead person. The soul will, therefore, feel warm and peaceful while giving up this life and the deceased will peacefully conclude his/her life and gain enlightenment."
Nowadays most people do not think there is any desirable method to dispose of a corpse. People wish it could just disappear forever at the moment of death, like a subtle wind. Nevertheless, people know that is impossible. Hence, the prejudice against sky burial funerals in current mainstream culture is so childish and ludicrous.
Sky burial is not meant to dispose of the whole corpse, but to fearlessly provide alms giving. This is true to the ideology and tenets of Buddhism.

Bstan Vdzin Vod Zer's Persistence
Before sky burial was introduced into Tibetan inhabited areas, Tibetans preferred cremation, and adopted "windy burial" during the Tubo period. During the funeral, many properties were buried with the deceased. The original Bon religion funerals usually included domestic animals being buried with the deceased. Along with social progress, it is clear that the irrational parts of religion will eventually be discarded.
At present, Bon religion has already absorbed some Buddhism's tenets. On the surface, it seems there is no big difference between these two religions. But on checking them in detail, it can still be founded that Bon religion preserves its origins. The most apparent difference is that the turning direction of the Tibetan Buddhist prayer wheel is clockwise, but in Bon religion it is the opposite.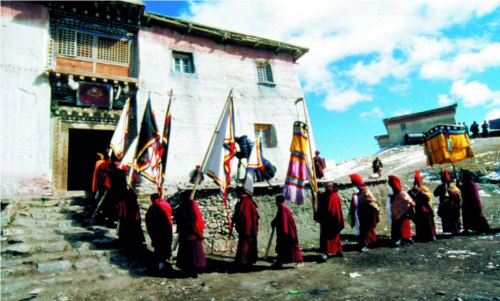 Color guard in a religious ceremony in Rtse Drugdgon Monastery.
Mainly, this is because the way of loading a sutra in a praying wheel is different. Bon religion prefers to place the head of a word inside and the end of the word on the outside. Therefore, turning the wheel follows the direction of the head of the word.
The difference also shows in their instruments. For instance, Bon religion usually features hand drums, big drums and bells. The shapes also differ from those used by other religions.
However, persistence itself must pay a cost. There is always a big difference in the ideology concerning a monastery's size and the economic situation of Bon religion in comparison with Buddhism. When I asked the reincarnation if he wanted to change the condition of the road to make the monastery a profitable tourist attraction, he responded: "I don't regard a monastery's income as a priority. People say my monastery's situation is not favorable, but I hold different idea. Because I aim to neither upgrade my living standard nor build a beautiful monastery, but to persist in following nature. In particular, I don't want to make it a tourist spot. Maybe that would either benefit the economic situation of the monastery or enable it to look great. However, that is not its true purpose if in doing so, its culture would disappear. The true purpose of this monastery is to enable the currently over 200 clergy to learn tenets and also practice. A tourist attraction could make these clergy change their pious minds. Though a monastery may be beautiful, without religious purpose it is but an empty shell."
My interview with the reincarnation occurred in his residence in Beijing while he was delivering a sermon in the hinterland. He has regularly delivered sermons at Lhasa, Beijing, Shanghai, Jiangsu, Zhejiang, and Hainan. He is a young reincarnation and has graduated from a high-level Tibetan Buddhist College in Beijing, enriched with profound knowledge of Buddhism but also equipped with knowledge of modern ideology. Talking with him, I was greatly enlightened.
Sitting in his neat abode that smelled of fresh Tibetan incense, I asked: "If you have adapted to life at such a big city, would be possible for you to feel uncomfortable when you return to your mountain?"
The reincarnation said: "No, surely I will not. Maybe you feel there is a big difference between here and there. But I was born there, chosen as the reincarnation of Buddha and stayed in Rtse Drugdgon Monastery from when I was a ten-year-old. By pursuing my studies, I have learnt the meaning of my life. For me, that is my home and family. Many people have asked me that question."
Since the road to the monastery was built, four Bon religious schools have been set up in the monastery, and one formerly destroyed chamber renovated. At present, the reincarnation wishes to translate the important sutra of Bon religion, Kangyur, with a total of 178 volumes, into Chinese in order to enlighten more and more people about Bon religion.

My Third Experience of Visiting the Monastery
In July of 2005, I made my third visit the Rtse Drugdgon Monastery. On entering TAR, my health was not at all good. My friends convinced me not to go because climbing the mountain of 4800 metres above sea level would most likely cause serious illness. At my insistence, in the middle of July, I reached Rtse Drugdgon Monastery in time for the grand religious convention that took place every 12 years. This was a major event for the Bon religion. At Mt. Rtse Drugdgon, a tremendous number of Bon Religious followers had arrived, and various kinds of Bon rituals took place, including the most original dance of Bon religion. What a wonderful opportunity to get in touch with and increase my knowledge of Bon religion! Had I missed this, I would have had to wait for another 12 years.
During the rainy season, Hei(He, Nagqu)-Cham(du) Road frequently suffered from landslides and collapses. I worried because the mountain road to Rtse Drugdgon Monastery was much worse. Although it was a sunny day, the road was still difficult. How could it be possible on a rainy day? I reminded myself of my second expedition to Rtse Drugdgon Monastery, i.e. "there is certainly a magic to getting there, and it does not actually rest on how much effort you have made."

Preparation before a performance.
Totally, from Chamdo to Rtse Drugdgon Monastery is 350 kilometres. Driving a good off-road vehicle, it usually takes about seven to eight hours. If encountering a storm or landslip, it is hard to say how long it will take.
I was unfortunate enough to have encountered all kinds of difficulties on this visit.
Having landed at the airport, I rushed to the downtown of Chamdo to have my lunch. It was already two o'clock in the afternoon. I had to set off immediately in order to reach to Tengchen County so that I could get to Mt. Rtse Drugdgon in time.
At the beginning, it was still sunny, but two hours later, rain poured down and the car had to slow down. I kept on praying and wished the storm would not cause any trouble.
Five hours later, it was already dark, but we still had half the distance to go. I was so nervous. In front, falling stones and mud blocked the mountain road. God did not show any mercy. We had to get out of the car and soak in the rain to clear the road. We even heard the sounds of falling stones while we cleared the road, like enormous venomous snakes were bearing down on us.
Having cleared up four to five blockages on the road, it was already 12 o'clock of midnight. Just at this moment, a crisis arose. At the big turn 10 kilometres from the downtown of Tengchen, vehicles were queued for over 100 metres. There was landslide in front of them. Obviously, we would not arrive at Tengchen tonight.
I did not worry about where to stay this night but was afraid of missing the most wonderful sorcerer dance which would take place tomorrow morning in Rtse Drugdgon Monastery. Desperately, we had to change the route 20 kilometres to go directly to the foot of the mountain. We hoped it might be easier for us.
Arriving at the foot of the mountain, the driver got out to check if we could keep on climbing the mountain in the night. Just at that second, a transportation policeman suddenly stopped in front of us and shouted: "Go back! You guys want to die? You cannot keep on going unless the rain stops tomorrow!" He was appointed to stay at the foot of the mountain during the convention. He told us it was definitely not possible to drive to the mountain peak in this rain because the road was too narrow and it would be easy to slide down to the cliff. In particular, the road was covered with thick mud and it would be easy for travelers to lose their lives.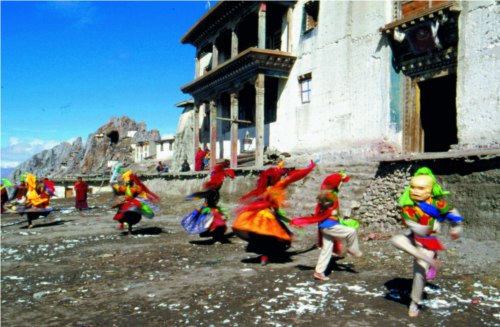 Religious dance.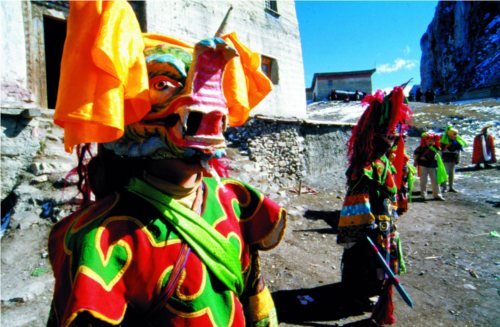 Religious ceremony aiming to avoid catastrophe and pray for good fortune, taking place in every October according to the Tibetan calendar.
In that night, as I bent my body into the car, the weather was extremely cold. I asked myself if I was too stubborn, or maybe there was no magic for me.
To persevere was not easy, but to give up when one is almost there was much worse. After a long internal struggle, I made my decision; if the rain did not stop I would surely discard the idea of reaching the mountain peak. There was no other choice; even I disliked the idea, because I did not want my driver and companion to take the risk with me.
I didn't sleep the whole night.
In the dawn of the second day, when sunlight hit my eyes, I almost cried and said: "Oh, my god, you are finally there!"
Although the sunlight dried some parts of the road, the mud was still slippery, and our lives were still endangered. We had to take over one hour to reach the top of the mountain; another two vehicles were unlucky and had to halt half way due to inexperienced drivers.
When we arrived at the top of the mountain, I was shocked to see what an extremely tranquil place was before, but now it was filled with thousands of white tents and many thousands of people! They came here 20 days before the convention's opening ceremony. Countless vehicles were parked on the road from 4700 metres to 4800 metres above sea level. The pilgrims were kneeling down together at the door of the reincarnation of Buddha to wait for his blessing. Of course, some people set up tents for business to sell groceries. Rubbish and night soil were spread everywhere.
Climbing from the parking area to the mountain peak and the home of the reincarnation of Buddha (Bstan Vdzin Vod Zer) my physical strength had faded. I tried hard to peer over the crowd of believers and then Bstan Vdzin Vod Zer, with his kindly countenance, was in front of me. I was so excited to see him, and tears filled my eyes because I had gone through so many difficulties to be here. Physically weakness worked together with the shortage of oxygen and I could hardly speak a word. The Rinpoche asked people to give me food to eat with the anti-altitude sickness medicine that he had made. Then he let me lie down for a rest beside him. I was not asked to get up until the sorcerer dance started.

Sorcerer Dance and Grand Religion Convention in Chicken Year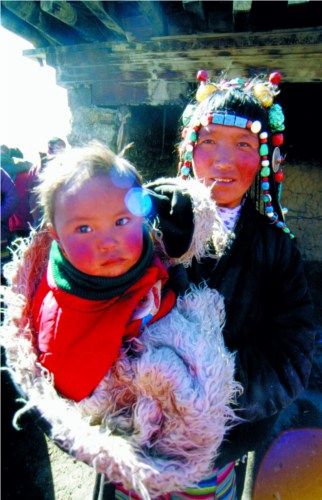 Mother and her daughter in religious ceremony of the Chicken Year of the Tibetan calendar.
The sorcerer dance began at 10 o'clock. I went to the dressing room in the main chamber and saw many young people, wearing animal skins around their waists, were helping each other to paint their bodies. Then they put on masks and went to the front of the main chamber in a line??the sorcerer dance had formally and vigorously begun.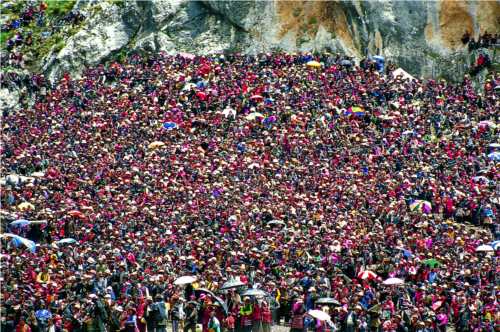 Pilgrims and believers participating in religious ceremony of the Chicken Year of the Tibetan calendar.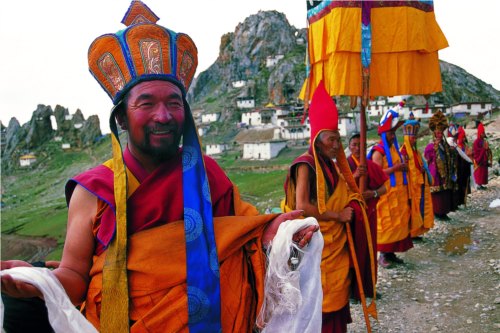 Monks in religious ceremony of the Chicken Year.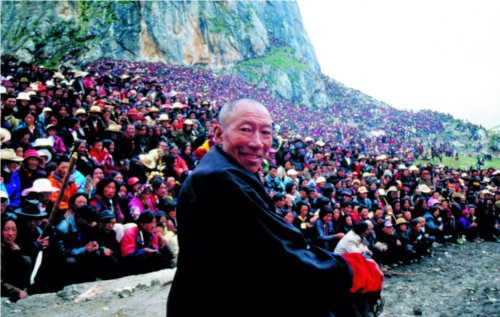 Pilgrims and believers.
The content of the sorcerer dance was a story of the judgment of Hell. A good deity and an evil one were the main figures in the performance, distinguished by wearing white and black clothes and masks. A dozen coloured "ghosts" acted as advisors to assist in the judgment; after praying, they turned to the crowd and pretended to chase and beat them?? which scattered people in all directions. Finally, the "ghosts" carried an accused person to the sky burial platform to bury him. They run down and up the hill took almost half an hour.
This was the so-called "naked religion dance" of Rtse Drugdgon Monastery, the rumor of which has literally spread everywhere. In fact, there was no such strange performance but rather an active, spirited and really ancient religious dance. Hundreds and thousands of people were attracted and were in a good mood. People were so excited that they did not want to give up even if it rained.
The performance took place twice. Other performances, which were similar to the common sorcerer dance designed to dispel catastrophe and pray for good fortune, also followed.
The believers in Bon religion consider this religious convention in the Chicken Year is an important festival. Everybody coming here believes that this particular occasion will always enable them to gain achievements. That is why people who live far away will take this hard journey and pray for dispelling of catastrophe and gaining of blessings.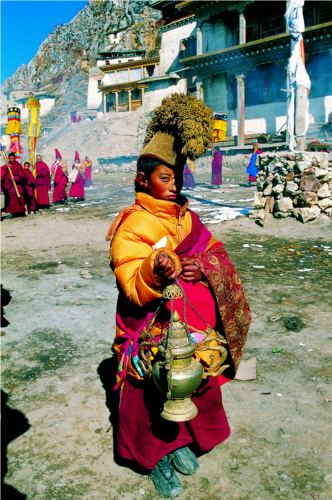 A young monk handing religious instruments.
Of course, I had my own achievements. I was intoxicated with this ancient religious civilization and attracted by the culture that had lasted over a thousand years. All of those, such as Tsenpo(King of Tubo Kingdom), protectors, holy mountains, believers, curses, medicine, tenets, rituals, spiritual support, placing hope in the soul, and the future prospects... all rose up in my mind.
In the first month after coming down from the mountain, my mind could not help but wonder at a completely different world. Unconsciously, an idea was emerging in my mind, i.e. I will definitely visit Rtse Drugdgon Monastery again and plan to stay there for couple of days. I will take my time with the reincarnation, observe the life of the monks there and visit the villages. I will intend to explore the history of Bon religion which has been surviving for thousands years, and I will prepare myself to experience this age-old but living spiritual civilization.