Migrant birds' winter time in Lhasa
---
From: China Tibet Online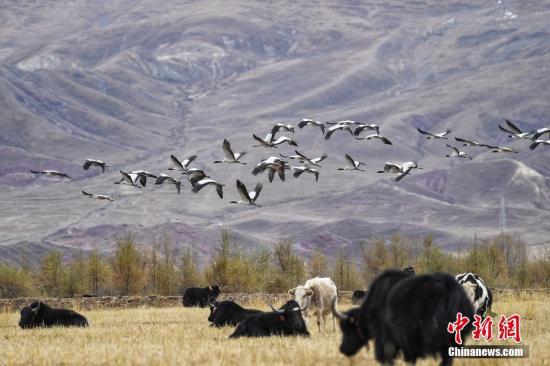 On November 16th, black-necked cranes have reached Lhasa valley for the winter. The black-necked cranes are unique to the plateau and a kind of first-level protected species in China.
Lhasa, capital of southwest China's Tibet Autonomous Region is already in deep winter at this time and is less green, but the lively creatures in the meadows and valleys have added life to the area.
We drove from Lhasa to the nearby Kazi Township in Lhünzhub County to see how black-necked cranes spend their winter migration.
Lhünzhub County has the most concentrated habitat for black-necked cranes in Tibet. Known as "lucky birds" to Tibetans, the black-necked cranes reproduce in northern Tibet in spring, and at start of winter, the birds travel south on a fixed route and spend their winter in the Lhasa Valley and the Nyang Qu River region.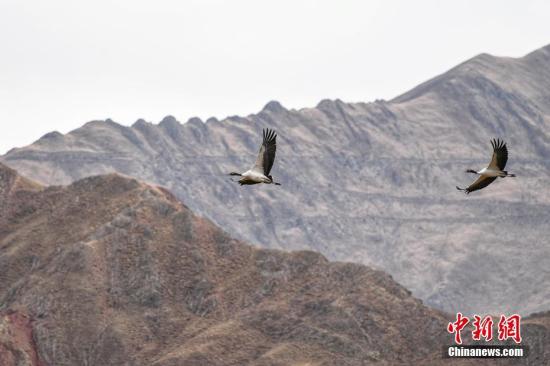 Tibet is the world's largest area for winter migration and reproduction of black-necked cranes.
Black-necked cranes are China's first-level protected species. As an indicator for the ecology of the plateau, the birds primarily live on plateau meadows, river valleys, and swamp from 2500 to 5000 meters altitude.
The ride from the city to the countryside took more than two hours and wasn't easy. Before we reached destination, we already had one punctured tire, but this didn't stop us from continuing our journey. We were driven by an ecology specialist named Dongrub Tsering, who is almost 50-years-old, and whose career of protecting black-necked cranes in Lhünzhub County has spanned for over 10 years.
He said he has not seen as many black-necked cranes in his hometown when he was growing up, and occasionally, the birds would be hunted. Nowadays, the cranes could be seen grazing in groups in the meadows.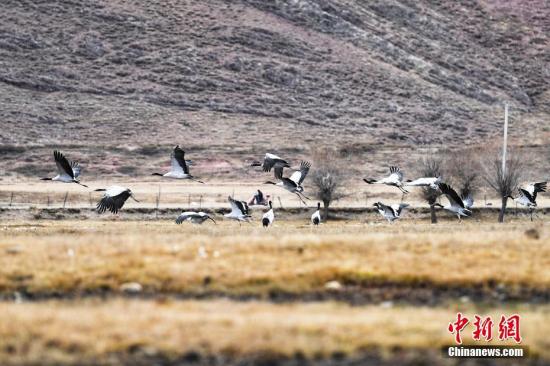 Black-necked cranes reach Lhasa Valley for the winter.
The cranes often graze at a wetland near Tsering's home. On this trip, he packed a small bag of wheat to feed the birds. He said, "there's more black-necked cranes this year, and the county has given every ecology specialist an extra 1000 jin of wheat.
We travelled and then came across a group of cranes, about 10 or so in number. Compared to vehicles, the cranes are more spooked by humans, so Tsering parked his car closer to the cranes, a safer distance for them.
When we were two or three hundred meters away from the cranes, Tsering got out of the car and scattered the wheat. We squatted nearby and used a long-distance lens to observe these birds. They have tall necks, long legs, a white back, and black wings. These elegant "lucky birds" looked very leisurely as they grazed, stretched their necks, pecked their feathers, and ambled around.
Before we observed them for long, the black-necked cranes seemed to become wary of humans. At first, they stretched out their necks, then they rustled and flew away.
After the feeding, we followed Tsering to look for a new group of cranes, however, our car was stuck in the mud. After we tried to push but failed, he took out a screwjack to elevate the car, added a rock as a cushion, and finally, we all helped to push the car out of the mud.
During our search for more birds, villagers in the area could be seen watering the fields. Not far from the fields were black-necked cranes grazing, playing, or resting. Tsering said that after all these years, the villagers and the cranes had an understanding not to disturb each other. He also said there was a subtle harmony between the locals and the birds, even if outsiders pretended to be locals, the birds would know they weren't.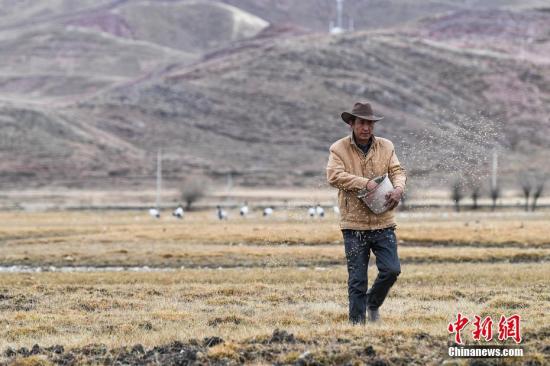 Dongrub Tsering, an ecology specialist, feeding the wintering black-necked cranes in Lhünzhub County.
The locals' familiarity with the black-necked cranes has helped Tsering understand the cranes very well and become more sensitive to the cranes' existence. During our search, he'd often stop and observe, at first, the meadows seemed empty, but soon, the cranes could be heard calling from afar.
When we followed the source of the sound, we could see almost 100 cranes resting in the area, an exciting discovery. On this trip, we actually saw quite a few gatherings of cranes of more than 100 in number, as well as a few cranes grazing with their young. In these cranes' families, there is often just one young crane. Luckily, we were able to photograph a few "family of four" black-necked cranes.
As our journey ended, it was already after dusk. Groups of black-necked cranes returned to their nests.