Yak products become treasures of the snow land
---
From: China Tibet Online
"Our first batch of yak milk soap, yak butter lip balm, and lipstick have been successfully sold to Taiwan, and the market response has been very good. They are also popular in the mainland market," Tsepai, an official with the Qinghai Province Golog Tibetan Autonomous Prefecture Creative Work Studio said in an interview with a reporter on October 21.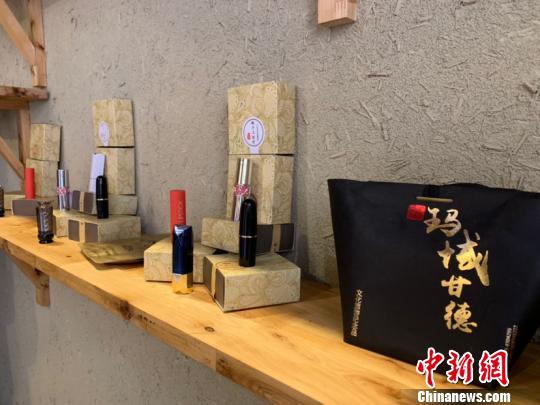 The sales area on the first floor of the Golog Tibetan Autonomous Prefecture Creative Work Studio.
Gande County in Golog Tibetan Autonomous Prefecture, Qinghai Province is labeled by the state as an impoverished county. In recent years, in order to preserve the grassland and increase the incomes of local nomads, the county has analyzed its resource advantages and production characteristics of each village and developed the area's animal husbandry, breeding, Tibetan clothing, natural cosmetics, and stone carving production.
In 2017, in order to help poor nomads get out of poverty, the Gande County Tourism Bureau set up the Cultural Tourism and Production Creativity Studio and provided free training for impoverished nomads in its villages to learn how to manufacture products such as handmade soap, yak butter lip balm, yak butter lipstick, and yoghurt face masks. After final sales, the nomads are given the dividends.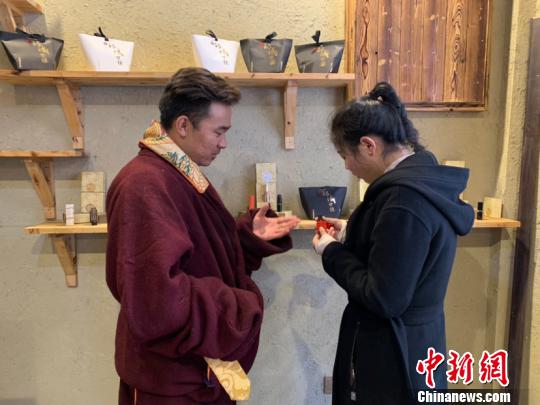 Staff of the stuido introduces their products to customers.
"The soap, lipstick, masks, and other products we have are all made from Golog yak milk, yak butter, and wild highland honey. They are all agricultural products with high nutritional value, and they are processed with skin care techniques in Taiwan," Tsepai said.
The 48-year-old Dordan is an impoverished nomad from Dianzhe Village, Gande County. Because his family doesn't have any yaks or sheep, they rely on working outside to make a living. When the studio was established last year, Dordan took part in the free training and became a member of the studio. "Since the studio was established, the natural cosmetics we produce have been sold in multi-channel markets, and our incomes have increased. In the past, my family's annual income was only 10,000 yuan. Now, our products sell very well, and we are given a lot of dividends. I believe that our lives will get better and better, "Dordan said.